Aug 2, 2021 09:21 AM Central
Terra Smith
If you have been following us for a while, you know we don't eat out at restaurants due to all of our food allergies. Craig and I both enjoy watching cooking shows and then creating recipes in a way that we can eat them. Tonight was steak night in our house inspired by Hell's Kitchen.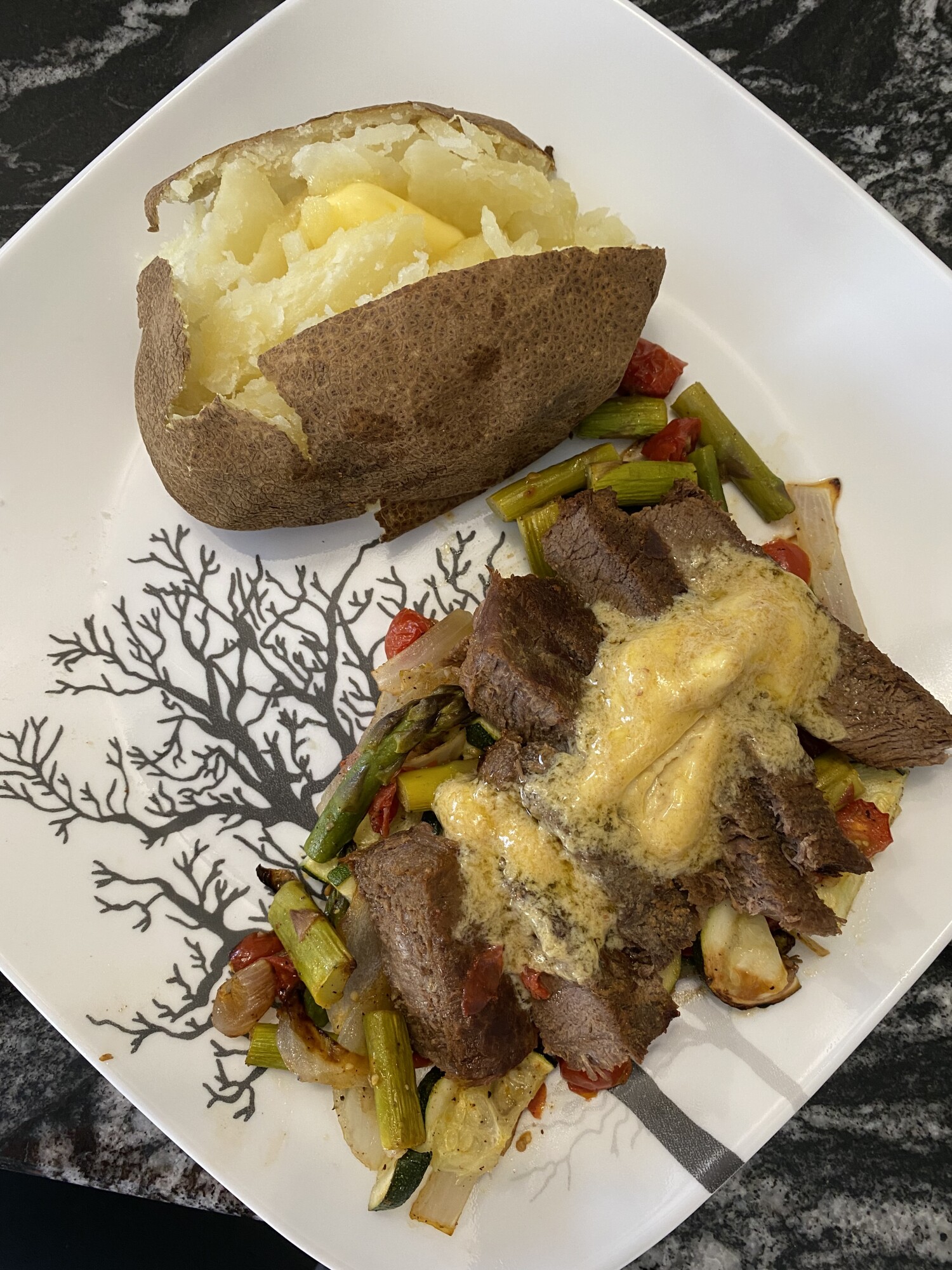 Ingredients
4 - Organic Russet Potatoes
1 - Package Organic Tomatoes
1 - Bunch of Organic Asparagus
1 Tablespoon -Grapeseed Oil
Black Pepper Essential Oil
Primal Kitchen Steak Sauce
Steaks
My filet was super thick, so Craig actually diced mine up before pan searing it on the stove. We added a drizzle of Grapeseed Oil, salt and pepper to the steak. Once finished, I like to add a few drops of Black Pepper Essential Oil.
His Rib Eye was pan seared on the stove with some KerryGold butter.
Veggies
Chop up your veggies and place into a mixing bowl. We used asparagus, squash, onion, and tomatoes. You can add any other veggies you like. We normally will add mushrooms too, but we were out this time. You will also mince up your garlic cloves. We are huge garlic lovers so feel free to decrease this amount if you desire.
Once all your veggies are chopped, add the minced garlic, drizzle with Grapeseed Oil and season with salt and pepper. Toss your veggies together or mix with your hands so they are mixed up and have an even coating of oil and seasonings.
I then transfer to a cookie sheet and bake in the oven along with the potatoes, but the veggies only need about 10-15 minutes depending on the size of your knife cuts.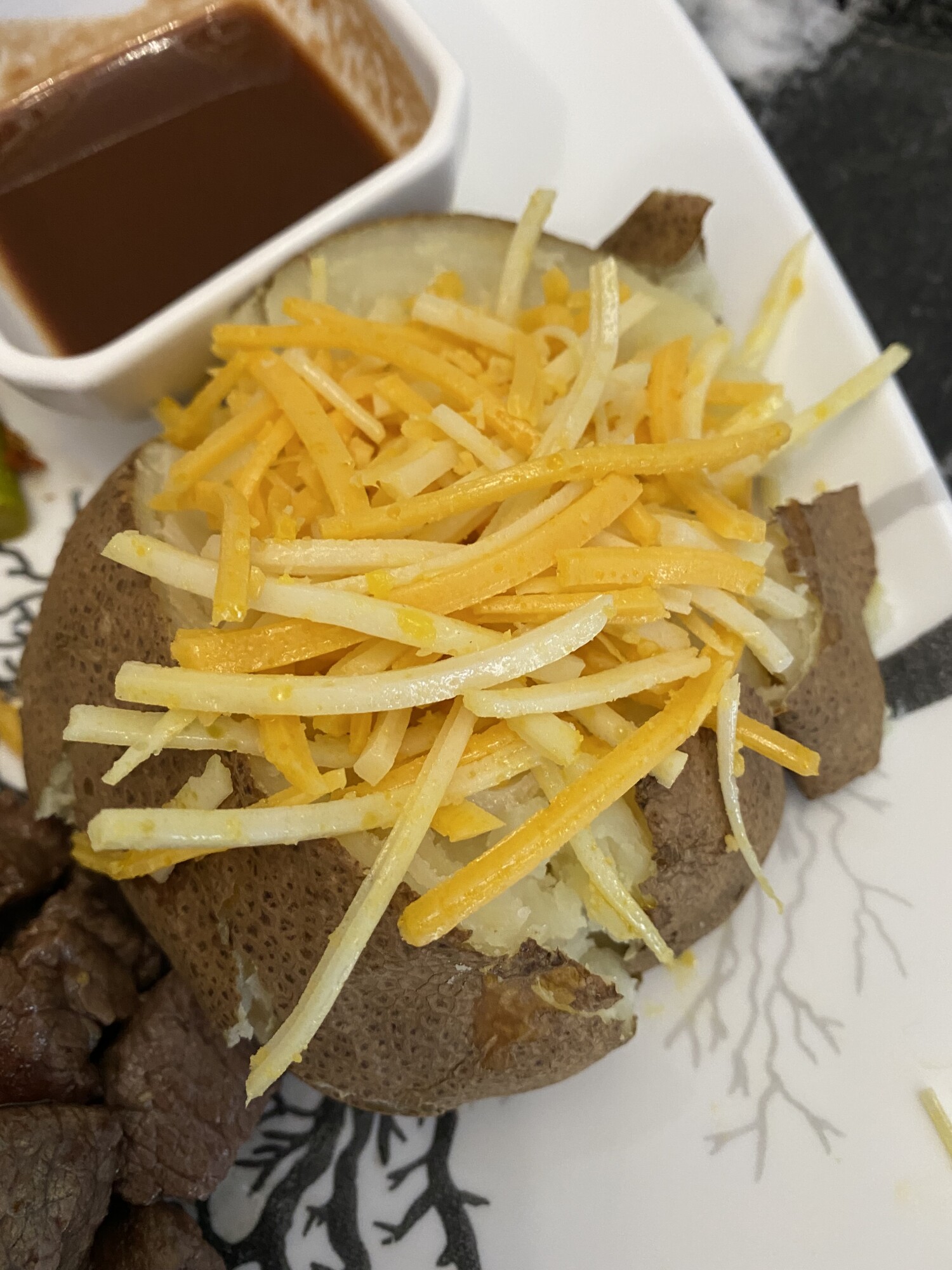 Baked Potatoes
Wash your potatoes. We like putting ours into a metal mixing bowl, adding water and about 10 drops of Lemon Essential Oil and letting soak for about 10 mins. The lemon oil will clean the potatoes. After that 10 mins, you can rinse.
Once washed and rinsed. Wrap your potatoes in aluminum foil and bake at 450 degrees for 45-60 minutes depending on the size of your potato.
I topped my baked potato with Dayia Dairy Free Shredded Cheese.
Craig topped his with Kerrygold Butter.
Dijon Butter
I melted about 1 teaspoon of Kerrygold Butter for about 15 seconds and then added Dijon Mustard and stirred together with a fork until creamy.
About the Ingredients
Let's take an inside look at some of our ingredients and why they were chosen.
Organic Vegetables
We choose to always buy organic ingredients and grass fed beef. Organic foods often have more
beneficial
nutrients,
such as antioxidants, than their conventionally-grown counterparts and people with allergies to foods, chemicals, or preservatives may find their symptoms lessen or go away when they eat only organic foods. Organic produce contains fewer pesticides.
Grass Fed Beef
In addition to being packed with B vitamins, grass fed beef has been found to be higher in vitamins A, E, and other antioxidants compared to grain fed beef.
Grass-fed beef has significantly lower levels of saturated fat compared to grain-fed beef. In fact, the fat content of grass-fed beef can be compared to skinless chicken. Replacing saturated fat in grain-fed beef with the unsaturated fat in grass-fed beef has been proven to reduce your risk of heart diseases. Studies have also found that grass-fed beef contains more antioxidants than grain-fed beef. Antioxidants help prevent cell damage that can lead to serious diseases such as cancer and Alzheimer's disease. Some people with gluten intolerance or celiac disease will also have
symptoms
with grain fed beef, I am one of those people.
KerryGold Butter
KerryGold butter comes from Grass Fed cows and is a great all purpose butter (if you eat dairy).
Dayia Cheese
This is a great alternative cheese company for those of us who are gluten and dairy free. If you have tried it in the past and wasn't a huge fan, they recently updated all their recipes and it is now really good!
Primal Kitchen Steak Sauce
I love this steak sauce because it's organic, gluten free, dairy free, sugar free, vegan and no soy!